Contact
About Us
Mail Order
Pattern Making, Grading, Invisible Reweaving, Dressmaking,
and Alteration for Men & Women
Since 1979

Our New Address
411 29th St.
Newport Beach, CA 92663
949-673-4434
Hours of operation
Monday through Friday
9:00am to 5:30pm
Saturday 10:00am to 2:00pm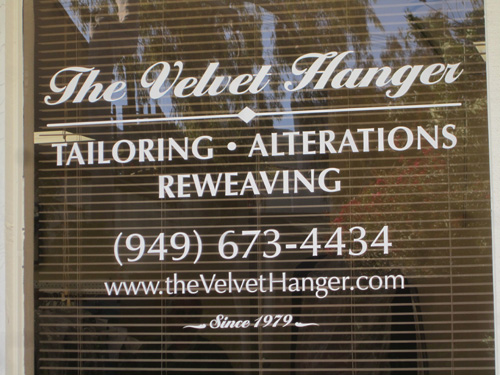 "Every job is a self portrait of the person who did it.
Our Work of excellence is our autograph!"
---
About The Velvet Hanger
With over 20 years of experience, Kim has excelled in the business of pattern making, grading, re-weaving, dress making, custom tailoring, and alterations. The Velvet Hanger has been located in Newport Beach since 1979.
We specialize in "Invisible" French weaving and other garment repair techniques. We can repair virtually every type of (better) known garments. People often bring garments with cigarette holes, moth holes, tears, and other damage, and we can usually repair them to be like new. In fact, most people cannot find the repair once we have rewoven it!
We regularly repair Chanel, St. John Knits, Armani, Hugo Boss, etc., garments and clothing accessories from walk-in customers as well as department and company owned stores selling the finer garments as a service to their customers.
Our professional seamstress services include tailoring and custom dressmaking. This includes any alterations, as well as creating from scratch virtually any kind of clothing from day wear to evening wear. We can also make patterns from your sketch, copy or make a new garment from your existing garment, as well as provide the custom alterations of wedding gowns, knits, leather, and furs.
Reweaving
Before/After

Bridal Gowns
Click on Image to veiw in high resolution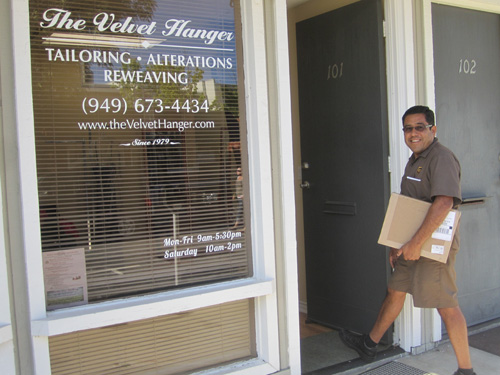 Mail Orders
For our reweaving customers we offer professional service by regular mail. Please indicate the area that needs to be repaired by clearly marking it.

Then include your Name, Address, Phone Number,
and the best time for a return phone call.
We will contact you regarding the estimated cost and outcome of the repair.
You can mail your package direct to:
Our New Address
411 29th St.
Newport Beach, CA 92663